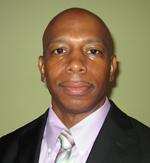 Dr. Bernard C. Jones, Assistant Professor of the Department of Special Education & Counseling at a NJ University is a native of St. Petersburg, Florida. Professor Jones pursued and recently received his doctorate in Special Education and Higher Education Leadership from West Virginia University. Dr. Jones has over thirteen years of experience teaching at the elementary and middle school level in special education in Richmond, VA, Henrico, VA, and Morgantown, WV, and has several years of experience teaching educational foundations and special education courses at the undergraduate and graduate levels. His research interests include the overrepresentation of male students in special education, preparing teachers to work with male students in classrooms, professional development and its affects on teachersí pedagogy, and the use of early intervention strategies by general education teachers. Workshop Descriptions

A Practical Approach: Reaching the needs of African-American Male Students in Reading Literacy and Mathematics
This workshop focuses on educators teaching in Pre-K through 12 grades. Through this workshop educators examine the practical approaches in the delivery of reading literacy and mathematic core content standards when working with African-American male students.

Teaching through My Swagger: A Child Left Behind
This workshop is geared toward educators teaching in K-12 environments. This workshop discusses developmental stages of male studentsí specifically African American males. This workshop discusses maturational and/or transitional strategies for educators working with African-American male students.